You undoubtedly know how to use a chainsaw and how to use it, but have you ever wondered where are chainsaws made? Even the most ardent supporters of chainsaws frequently ponder the manufacturing location of their current models.
It is crucial to be aware of every aspect of the chainsaws you intend to purchase, including the engine power, blade speed, battery backup, and more. Another crucial factor is understanding the chainsaw's manufacturing location. The knowledge presented in this post should be useful the next time you require a new chainsaw.
In this article, you'll learn about each chainsaw manufacturer in the power tools industry, where are chainsaws made, and where they are imported from.
Table of Contents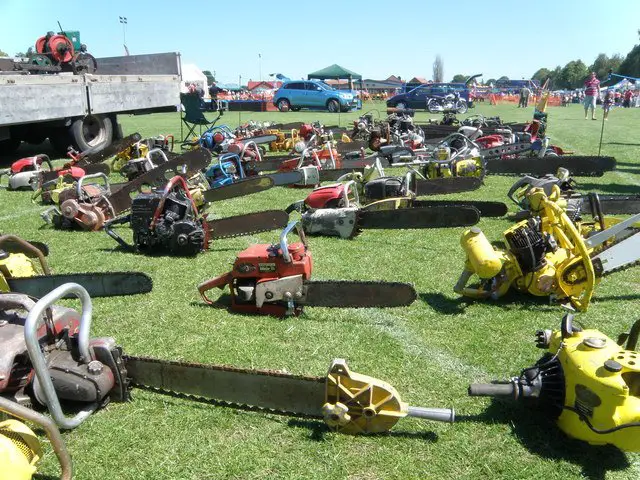 Where Are Chainsaws Made? List of Chainsaw Brands
Where Are Black & Decker Chainsaws Made?
Think again if you believed Husqvarna has the most subsidiaries. They are so plentiful with Black & Decker that I haven't even tried to count. Although they have factories all throughout the world, you can bet that they produce their budget goods in countries like China.
But these days, who doesn't? Japan, the United States, and Eastern and Western Europe are additional sites where you will find Black & Decker chainsaws being manufactured.
Where Are Black Max Chainsaws Made?
Because Stanley Black & Decker Corporation is an American corporation and owns Blackmax Chainsaw, the majority of Black Max's manufacturing facilities are located here. These chainsaws are in the lightweight category and are very simple to use. These chainsaws are light at about 12 pounds, making them quite portable. Additionally, the chainsaws include an enclosed hard plastic box for storage while not in use.
The Black Max chainsaws will be exceptionally smooth to use, making a visible difference, and the included anti-vibration technology will make cutting or trimming tasks easier. It has excellent quality and enough power to complete challenging tasks with ease.
Where Are Coocheer Chainsaws Made?
The majority of Coocheer chainsaws are produced and assembled in China. Chainsaws from Coocheer are among the top selections on the market because they are of the highest caliber and are quite remarkable.
The Coocheer chainsaws have a high-quality construction because the ABS plastic surface allows them to withstand high temperatures with ease. The excellent air filtration system built into Coocheer chainsaws is yet another significant feature.
The automated chain oiler will ensure that your chainsaw runs smoothly every time you use it, and the excellent air filter system will stop any dust from entering the engine.
Where Are Craftsman Chainsaws Made?
Craftsman has undergone numerous ownership changes, so you might be perplexed as to where they actually manufacture their products.
Craftsman is currently owned by Husqvarna Group, which means that, like the other brands mentioned in this article, they are produced in the Husqvarna manufacturing facilities across Sweden, France, Germany, the United States, China, and Brazil. This could account for some of the similarities between Poulan and Craftsman chainsaws.
Additionally, as a member of the Husqvarna Group, they can take advantage of their research and development division and provide their customers with a fantastic price/performance ratio.
Where Are Dolmar Chainsaws Made?
Makita purchased the Dolmar Outdoor Equipment line in 1991. Although the original Dolmar outdoor equipment manufacturing is still in Hamburg, Germany, chainsaw parts may also originate from Makita factories in the United States, Japan, Brazil, China, Mexico, Romania, the United Kingdom, Dubai, Rwanda, and Germany.
Where Are Echo Chainsaws Made?
ECHO chainsaws are made in the United States with parts sourced both domestically and abroad. Manufacturing facilities for ECHO chainsaws are located in Illinois, Shenzhen, and the Japanese cities of Yokosuka and Morioka.
Where Are Ego Chainsaws Made?
EGO is a company founded on innovation. They've pushed the limits of cordless technology since the very beginning and are a part of a global manufacturing company that was founded in 1993. Today, they produce more than 10 million tools annually and export them to 65 nations, making them one of the biggest tool makers in the world.
German power tool manufacturer Flex was purchased by Chevron in 2013. The EGO 56V cordless OPE series of tools and a significant foray into outdoor power equipment were introduced in 2014. The EGO brand was truly Chevron's big entry into a line of power tools under its own brand. Their entire line of power tools is made in China.
Where Are Greenworks Chainsaws Made?
For those with a keen interest in gardening and DIY, Greenworks is the brand to turn to. For those seeking savvier, greener, and cleaner answers. The Globe Group, a young firm that is a leader in a world that does away with fossil fuels and electrical cords, is the company behind the Greenworks brand. Our global headquarters are located in Changzhou, China, where all goods are produced in their own, incredibly effective factories.
Where Are Holzfforma Chainsaws Made?
Chainsaws made by Holzfforma are created and put together in China before being exported elsewhere. People who want to utilize Farmertec's Holzfforma chainsaws for demanding cutting and pruning activities around the house have started to show interest in them.
A Holzfforma chainsaw can easily cut through anything, including logs that are incredibly thick, enormous maple trees, and large fallen trees.
Where Are Homelite Chainsaws Made?
Chinese factories produce Homelite chainsaws. Although their products are rather simple, I suppose they are adequate for a very casual user. However, several of their electric chainsaws are interesting to consider. Therefore, if you're on a tight budget, they may be the best option for you.
Where Are Husqvarna Chainsaws Made?
Despite the label saying "Built in Sweden" or "USA," Husqvarna chainsaws are made in many different nations. Sweden, France, Germany, the United States, China, and Brazil are among the countries where the corporation has facilities and subsidiaries. Each Husqvarna chainsaw most likely consists of parts that are imported from one or more of these nations.
Learn more about them in our Husqvarna Chainsaws – Information, Manuals, Service Locations guide!
Where Are Jonsered Chainsaws Made?
Another member of the Husqvarna Group is Jonsered. Although no precise information regarding the manufacturing site of these chainsaws is provided, we may presume that it is the same as for Husqvarna chainsaws, which are made in Sweden, France, Germany, the United States, China, and Brazil.
Where Are Makita Chainsaws Made?
With its headquarters in Anj, Japan, Makita also runs manufacturing facilities in the United States, Brazil, China, Mexico, Romania, the United Kingdom, Dubai, Rwanda, and Germany. When it comes to the chainsaw market, Makita is a titan. As its name implies, Makita is a global leader in the tools sector with its headquarters in Japan rather than the United States or Europe.
The Japanese tool giant Makita is well-known for its unwavering commitment to producing immaculate chainsaws. The fact that Makita acquired another tool company, Dolmar, in 1991 sums up the amazing expansion of Makita chainsaws. Additionally, Makita has taken over the Hamburg, Germany-based Dolmar manufacturing.
Where Are McCulloch Chainsaws Made?
Husqvarna Group today owns McCulloch Motors Corporation, which was initially established in Milwaukee, Wisconsin. Despite the lack of particular information, we can infer that the same countries as Husqvarna—Sweden, France, Germany, United States, China, and Brazil—are where McCulloch chainsaws are made.
Where Are Oregon Chainsaws Made?
Due to the brand's reputation for producing high-quality chainsaws and other home products, chainsaw users are likely to have come across the term Oregon chainsaws very frequently. Chainsaws made by Oregon Tool, Inc. are known to be of excellent quality and durability.
The chainsaw-making company, which has its headquarters in Portland, Oregon, employs 10 separate manufacturing facilities in five different nations. For a very long time, Oregon chainsaws were made in Portland, Oregon, but manufacturing eventually shifted to the US Midwest and Canada.
Where Are Parker Chainsaws Made?
Parker is a newbie to the industry, especially in light of the age of the majority of the companies on this list. They were started in 2002, but they are a respectable rival to longer-standing companies. Another interesting fact is that they only operate out of one site, which has remained in Lincolnshire, UK, where it has always been since the brand's inception.
Where Are Poulan Chainsaws Made?
Poulan chainsaws were established in Shreveport, Louisiana, in 1912. Poulan was bought by Electrolux in 1984, and since 2006, it has been a Husqvarna Group subsidiary.
Although no precise information regarding the manufacturing site of a Poulan chainsaw is provided, we may presume that it is the same as for Husqvarna chainsaws, which are made in Sweden, France, Germany, the United States, China, and Brazil.
Where Are Remington Chainsaws Made?
MTD Products, which has its headquarters in Valley City, Ohio, owns Remington. Since MTD has manufacturing facilities in the US, Mexico, China, and Europe, any or all of those nations' components could be found in a chainsaw.
Although it is unclear which component of the chainsaws is made in which nation, it is known that several components are made in various nations. The components are built and combined in the USA before being supplied to chainsaw users both domestically and abroad.
Where Are Ryobi Chainsaws Made?
Due to its lower level of popularity than the other companies on this list, you might not be familiar with this other Japanese brand, Ryobi. However, they do produce excellent entry-level household tools at reasonable prices.
The majority of the brand's initial production took place in the United States (in the 1980s and early 1990s), but today, many parts are manufactured in China. Nevertheless, Shelbyville, Indiana, continues to house one manufacturing facility.
Where Are Stihl Chainsaws Made?
Stihl is one of, if not THE, most reputable and well-liked chainsaw manufacturers. Their range of chainsaws is manufactured in China, Brazil, Germany, Austria, and the United States of America. In Virginia Beach, the US subsidiary has its corporate offices, a manufacturing facility, and storage facilities. The German HQ is located close to Stuttgart in Weiblingen.
Regardless of the site of manufacturing, "Made by STIHL" is a brand promise. Every chainsaw is subjected to stringent testing and quality control procedures developed by STIHL.
Where Are Sun Joe Chainsaws Made?
Sun Joe is a subsidiary of Snow Joe which was originally founded in 2004. This digitally native, direct-to-consumer company designs, develops, and distributes high-quality, yet affordable, lawn and garden tools. Sun Joe itself was founded by Snow Joe in 2009 and is manufactured and distributed in the United States.
Where Are Tanaka Chainsaws Made?
Tanaka chainsaws were first produced in Japan, but Hitachi, a Chinese corporation, currently owns the business. China now manufactures the majority of the chainsaw parts used by Tanaka.
Where Are WORX Chainsaws Made?
WORX, which offers solutions for the home appliance sector, is owned by Positec Tool Corporation. China is the location of their manufacturing. On a foundation of creativity, strength, and performance, WORX was established. These tools are made with the best technology available, and every modern design has utility built-in, allowing you to work precisely.
Thinking about purchasing a new chainsaw? Visit our buying guides:
FAQs (Frequently Asked Questions)
Is Husqvarna made in China?
They do indeed have factories in China. There seem to be the factories that produce primarily budget-friendly goods. Other nations where the company maintains facilities and subsidiaries include Sweden, France, Germany, the United States, and Brazil.
Where are STIHL and Husqvarna chainsaws made?
Stihl chainsaws are manufactured in China, Brazil, Germany, Austria, and the United States. Husqvarna chainsaws are manufactured in Sweden, France, China, Germany, the United States, and Brazil.
Where is STIHL chainsaws made?
You will find a Stihl chainsaw being primarily manufactured in manufacturing plants in the United States, China, Germany, Brazil, and Austria.